There's plenty on at Te Oro over the next month; a new art workshop, movie screenings, a dance party, EastWeek, a pop-up stardome, Matariki celebrations, the Modern Māori Quartet and more. Everything is free or at very low cost and we kick it all off by celebrating Samoan Language Week, the third most spoken language in Aotearoa.
Last years Te Oro team photo for Samoan Language and arts week.
YOUTH WEEK
EastWeek 2017
EASTWEEK is a weeklong, series of events in Tāmaki co-produced by youth for youth. Part of the nationwide festival Youth Week which celebrates the talents of young people.
Te Oro will host 3 events as part of this week:
Tues 30 May, 4pm - 6pm

, Free, PG
Thurs1 June, 4pm - 6pm

, Free, M (contains violence & offensive language)
Sat 3 June, 7pm - 12pm

, $5 , R16
For more information about EastWeek or to get a copy of the flyer, please contact us at Te Oro.
Three Wise Cousins with Q& A session with the lead actor Neil Amituanai (middle)
NEW WORKSHOPS
Ngahuru Programme
Print Making Studio - Thurs,

4.30pm – 6.30pm

,

15 June - 6 July
Digital Storytelling - Mon & Wed

3:30pm – 5:30pm

,

29 May – 5 July
Learn printmaking techniques, play with different mediums to make multi-layered images and art pieces. This new class starts midway through the Ngahuru Season and is led by artists Natalie Couch and Rangimarie McDowell.
Digital Storytelling
Come and learn in a fun, digital environment. You will learn how to tell a story using digital Photography. Serena Stevenson (tutor) photographer/filmmaker has travelled the world on commissioned assignments, exhibited worldwide.
For more information click on the link or contact us at Te Oro.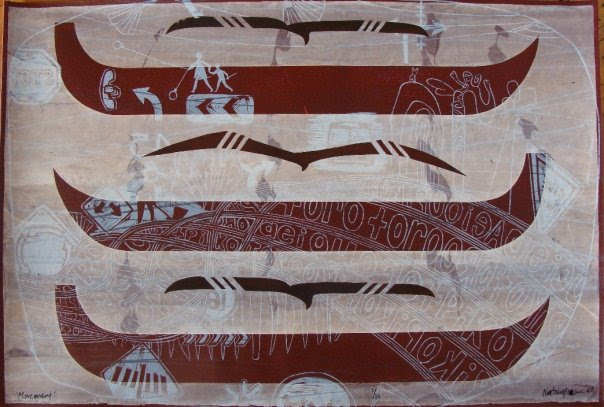 Print by Natalie Couch, Printing ink, Paper. 297x420mm, 2008.
EVENT
Matariki Festival
Matariki celebrations are just around the corner and there's plenty to talk, sing and haka about. Kōrero brings enlightenment through a pop-up stardome sharing Māori knowledge. Waiata brings a taste of nostalgia with music from the 1940s era from the Modern Māori Quartet. Ngahau brings the haka as Te Wananga o Aotearoa opens the Te Ara Rama Light Trail.
Mon 12 June & Tues 13 June

(Free)
Sat 1 – Sat 8 July

,

6 – 9 pm

(Free)
For more information on what else is on at the Matariki Festival click on this link.
Te Ara Rama Light Trail in Maybury Reserve next to Te Oro
HIGHLIGHT
Te Oro 2nd Birthday
The 2nd birthday started with a karakia to bless the Ngāti Paoa sound cone and ended with Three Houses Down bringing down the whare. The day showcased the effect two years has had on our young local artists, as we saw them share the stage with the industry professionals who are their tutors. It showed the talent we all know is here in Tāmaki but revealed how quickly it can grow with the right support, half an opportunity and good motivation.
In two short years we managed to fill a day with performances from artists who all have a connection to Te Oro. We look forward to growing those connections and adding more so that one day in the future we can have a birthday weekend!
Click here for the link to the photos of the day.
Thank you to all those visited and supported Te Oro on its special day.
Photos: Chantel Matthews-Perawiti & Rocky Freeman
---------------------------------------------------------------------------------------------------------
Know someone who needs to join our database? Then send them this email and they can join via our Te Oro website to get notifications, and Te Oro news.

We look forward to seeing you at Te Oro very soon.



Naku noa na
Te Oro Team.